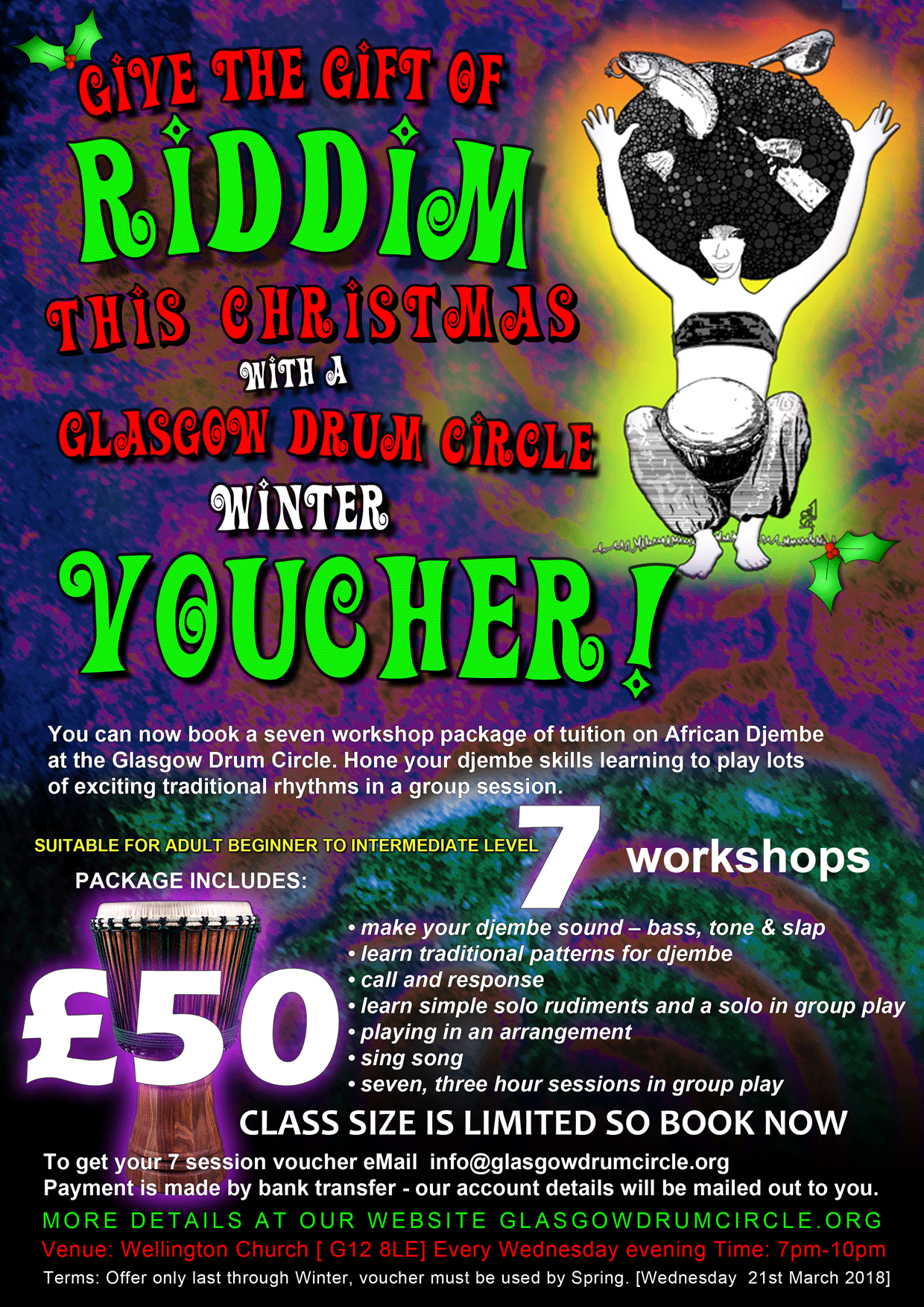 Yes I want to give the gift of Riddim this Christmas. Take me to the form!
GIVE THE GIFT OF RIDDEM THIS CHRISTMAS
with a Glasgow Drum Circle Winter Voucher!
You can now book a seven workshop package of tuition on African Djembe at the Glasgow Drum Circle. Hone your djembe skills learning to play lots of exciting traditional rhythms in a group session.
Suitable for beginner to intermediate level.
7 workshops – £50
Package includes:
seven, three hour sessions in group play
make your djembe sound – bass, tone & slap
learn traditional patterns for djembe
lets groove baby
call and response
learn simple solo rudiments and a solo in group play
Playing in an arrangement
sing songOffer only last through Winter  must be used up by Spring.
[Wednesday  21st March 2018]CLASS SIZE IS LIMITED SO BOOK NOW
To acquire your 7 session voucher eMail  info@glasgowdrumcircle.org   
or use our form <<HERE>>
Payment is made by bank transfer – our account details will be mailed out to you.
MORE DETAILS AT OUR WEBSITE GLASGOWDRUMCIRCLE.ORG
Venue: Wellington Church [ G12 8LE]  Every Wednesday Time: 7pm-10pm Fist workshop starts January 17th 2018
wear comfortable clothing and bring juice and snack.
see website for updates
glasgowdrumcircle.org