Group classes are a great place, to not only learn a new skill, but also to make friends and just have lots of FUN! Our experienced teachers will teach you everything from basic techniques to complete rhythmic pieces, giving you the opportunity to learn a variety of instruments including djembe, 'dunduns' (kenkeni, sangban, dununba) and African bells.
We mainly play traditional West African rhythms and learn the occasional accompanying song, although we also make some time for some free play and developing solo techniques. Everyone from beginners to more seasoned drummers are welcome to join in.
Where and When
Weekly classes take place every Wednesday throughout the year (with the exception of Christmas & New Year) from 7pm – 10pm at Wellington Church, 77 Southpark Avenue, Glasgow.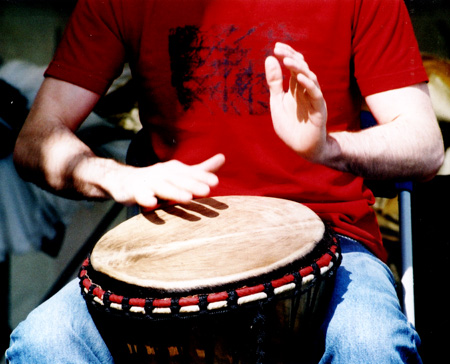 Drum Availability
Please contact us before coming along to ensure we have a drum available for you. Alternatively, if you have your own djembe drum please feel free to bring it with you.
Cost
The cost to attend each session during term 1 [Jan-end of June] is  £10 . This includes free djembe drum hire (subject to availability) and djembe tuition.
We hope that everyone following into term two [July – end of December] will become a member.
You can sign up to be a full member at any time. Glasgow Drum Circle. Members will receive tuition on a range of different drums, extra tuition materials for practising at home, inclusive residential weekends and opportunities to play in performances. The member's tuition programme costs only £150 for 6 months, so quite a saving on paying each week.
THE GLASGOW DRUM CIRCLE
Adult Beginner and Intermediate Classes
Every Wednesday
7pm-10pm,
Cost £10 to non-members
Wellington Church
77 Southpark Av,
Glasgow,
G12 8LE,