African drumming has resumed in Wellington Church (Mitchell Room) each Wednesday 7-9pm.  £10 per class (including drum hire).
You  will learn how to play traditional West African music on djembes, dun duns and cowbells.  All instruments are provided but feel free to bring along your own African djembe if you have one
Beginners are welcome, and we play in a group, so there will be a mix of skill and abilities.  We aim to have you playing and contributing to the drum circle as a whole within a few weeks.
We share tuition videos and materials on our class WhatsApp.  All we ask is that you continue to return to class to gain access to the materials.  We operate as a nonprofit; your teachers don't receive payment for their tuition.  Instead, all money goes towards paying for rent of the hall and upkeep of the instruments, as well as keeping the cost low so that we can encourage as many people to participate as possible.
We can't wait to drum with you
ATTENTION:  Glasgow Drum Circle Practice Every Wednesday.   Classes £10 for 2 hours of drumming!
7pm-9pm Wellington Church, Glasgow – New Teachers, New Rhythms.  All welcome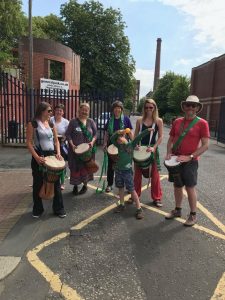 Home of the GDC on the interwebs.
The Glasgow Drum Circle is a vibrant and diverse community group which has been providing opportunities to learn, play and perform world rhythms for over 15 years.
We run friendly group classes every week where you can learn how to play a variety of (African percussive instruments)/(tribal drums) and gain the skills and confidence for playing in any group drum circle environment. Please go to Classes for further information on how to join in.
In the past we have also promoted an inclusive approach to music through a variety of school workshops and outreach programmes, providing opportunities for individuals from all walks of life to share in the benefits of group music-making and to encourage the sharing of other cultures.

More videos on our media page
THE GLASGOW DRUM CIRCLE
Adult Beginner and Intermediate Classes
Every Wednesday
7pm-9pm,
Cost £10 to non-members
Wellington Church
77 Southpark Av,
Glasgow,
G12 8LE,