A message from the GDC Team:   We hope all our drummers, past, present and future, are staying safe during social isolation.  The Glasgow Drum Circle's usual venue of Wellington Church has temporarily been suspended but we continue to drum with you online.  Over the coming weeks you will be able to enjoy some online tuition videos which will be posted on our Facebook page for our members and general public to enjoy.  We promise to resume normal service as soon as possible.
In the meantime, stay safe and keep drumming!
ATTENTION:  Glasgow Drum Circle Practice Every Wednesday.   Classes £10 for 3 hours of drumming!
7pm-10pm Wellington Church, Glasgow – New Teachers, New Rhythms.  All welcome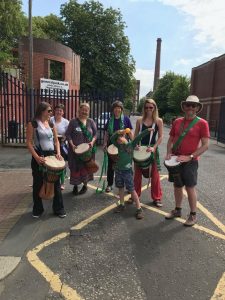 Home of the GDC on the interwebs.
The Glasgow Drum Circle is a vibrant and diverse community group which has been providing opportunities to learn, play and perform world rhythms for over 11 years.
We run friendly group classes every week where you can learn how to play a variety of (African percussive instruments)/(tribal drums) and gain the skills and confidence for playing in any group drum circle environment. Please go to Classes for further information on how to join in.
In the past we have also promoted an inclusive approach to music through a variety of school workshops and outreach programmes, providing opportunities for individuals from all walks of life to share in the benefits of group music-making and to encourage the sharing of other cultures.

More videos on our media page
THE GLASGOW DRUM CIRCLE
Adult Beginner and Intermediate Classes
Every Wednesday
7pm-10pm,
Cost £10 to non-members
Wellington Church
77 Southpark Av,
Glasgow,
G12 8LE,